Marcus Foster
Master Barber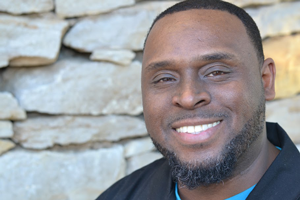 Specialties
Designs
Ethnic Hairstyles
Sheering Comb Cuts
Bio
Marcus is a Master Barber with 15 years of professional experience, as well as the
owner of Perfect Image.
He caters to his professional clientele, students and families.
Marcus services a high volume of members of the corporate world, everything from
doctors to lawyers to all around businessmen and women.
Children are welcomed into the family friendly atmosphere he establishes.
During the short wait the child may have while waiting on a parent or sibling to get a haircut, cartoons are turned on to ensure the child is entertained.
A visit to the shop is not just a haircut; it's an entire experience. The haircut
itself is not the only treat Marcus provides for children, they also receive a tasty
sucker after each carefully crafted haircut.
Marcus' passion for barbering continues to expand. "It's the best job I ever had.
I love taking care of the clients and giving them the attention they need."
The entire shop revolves around the same central idea: making sure the client is happy.
Marcus grooms today's youth and professionals to become tomorrow's experts and inspirations.
Testimonials




Marcus was extremely professional, entertaining. and great with my son. He was ready when we got there at 4, and out by 445. I have always had his father do the barber shop thing with him, but I wanted to this time, and glad I chose his business! We will be back!!!




THE FACT THAT FOR AT LEAST 15 YEARS OR MORE--THE ONLY PERSON WHO HAS EVER CUT MY HAIR IS MARCUS FOSTER IS AN EMPIRICAL TESTIMONIAL BY ITSELF WITHOUT THE NECESSITY OF STATING ANY HYPERBOLIC ADJECTIVES. I ALWAYS FEEL REFRESHED AND LIKE A NEW MAN EVERY TIME IF LEAVE HIS BARBERSHOP AFTER MY HAIRCUT




I have been going to this barbershop for about 5 years. Marcus provides the very best in customer service in a relaxed and classic barbershop environment. He is a Master Barber that cuts hair exquisitely. The staff is also very skilled. They are a class act and treat everyone with a high degree of decorum and respect treating customers to a first class experience every visit. I highly recommend Perfect Image Barbershop and Beauty Salon for all your hair styling needs.




The shop feels like "The Barber Shop"! Very respectable Gentlemen that love what they do!




I've been going to Marcus F. for over 5 years now and I've received outstanding services from him every time! He's funny, personable, and always provides great advice for questions I may have regarding my hair care. His diversity of skills have allowed me to try a variety of hair cuts that I have all been satisfied with. The "Perfect Image" salon as a whole is a place where all of the Beauticians and Barbers are always welcoming and fostering great conversations! The exceptional quality of work they produce, the convenience of their location, and the great hospitality they provide are just a few of the reasons why I enjoy being a client!




Believe it or not, Marcus Foster has been my barber for 17yrs, he was still in Barber College when I first began utilizing his service...LOL His level of professionalism, relatability to his customers and his A+ mentality is evident in the entire structure, atmosphere and quality of people that make up the PI Staff. I LOVE the fact that my barber takes appointments and I don't have to sit for hours waiting on an opening and I can schedule on my smartphone, laptop, ipad or anything that can connect to the internet. This shop is one by which others should be measured. Simply Superb!!!!




I've been getting my haircut by Marcus for over 10 years. He's consistent and good at what he does. I also appreciate the atmosphere in the shop. It is professional and appropriate for your children to come and get their hair done also. Marcus cuts my 2 year old son's hair also. He is good with children and made my son comfortable to get his first cut. My son is a repeat client now.